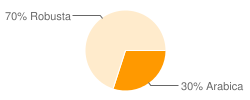 Cremoso coffee has a strong aroma and a surprisingly smooth finish with a pleasant and cosy flavour . It is an excellent choice for every day coffee, with its distinctive taste, creamy and dense body is adored by all coffee lovers.
Compatible with A Modo Mio coffee machines
Pack of 16
Customer Reviews (2)
Contact us first if you need more info about this product
Please make your selection carefully as we are unable to accept this product for refund or exchange if you simply change your mind or if you made an incorrect purchase. Returns for this product will only be accepted where the goods are deemed faulty under the terms of our return policy.
Cremoso blend - 16 Coffee Capsules A Modo Mio Compatible by Best Espresso
Save even more now!

2 or more $8.90
4 or more $8.40
12 or more $7.90
24 or more $6.39