Bored of your usual routine? - Discover & Shop the latest products
The one and only 100% compostable pods!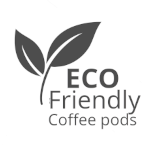 Enjoy a premium café-quality coffee at home! Just make your coffee at the press of a button and toss the used pod in your compost bin, worm farm or FOGO bin.
Truly eco-friendly premium coffee pods at affordable prices!
Click here to find a large selection of compostable ESE Pods!
---
Safe & secure Shopping

Data are communicated in a secure and encrypted format. In addition we do not store any detail related to your payment i.e. we do not store your credit card information.
We Are Espressoland
Espressoland.com.au is Australia's largest independent online retailer of coffee pods and capsules since 2011. We are committed to providing you with Delicious coffee, Great Value and Free Shipping on over 250 capsules and pods.

You can find coffee capsules from leading coffee companies at lower price. Coffee pods compatible with Nespresso, Lavazza A Modo Mio, Espresso Point, EP MAXI, Lavazza BLUE, Caffitaly, Dolce Gusto and ESE machines. In addition we have exclusive special treats such as Certified Organic products, Hot Chocolate, Single Origin coffee and a range of Herbal and Ice Teas in capsules for your machine – we've got the lot.

Shop by brand